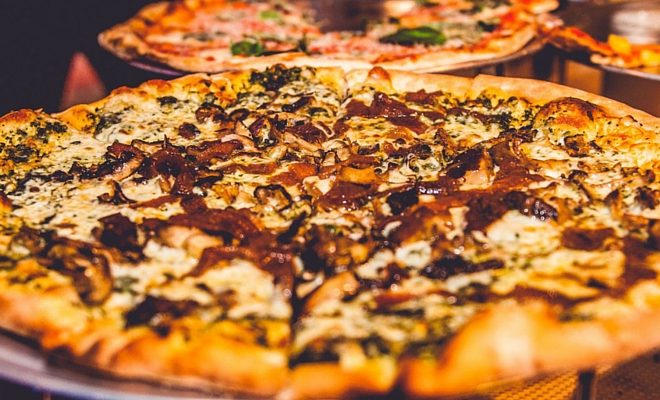 Dine In Catering
Coal-Fired Oven-baked Pizza Is The Best!
By
|
Of course, there will always be heated debates about which pizzerias offer the best pizza in any city from New York to Chicago. But when it comes to making comparisons about the quality – taste, texture and flavors of the crust and toppings – pizzas baked in coal-fired ovens are the best, hands down!
We have no beef against pizzas baked in gas-fired and electric ovens because pizzas, like most foods, are a matter of personal preference. But ask any pizza purist about which pizzas baked in which oven are the best, the likely answer will be coal-fired, oven-baked pizzas and here's why.  
Superior Crust Quality
Indeed, the way that pizza bakes inside a coal-fired oven makes a difference in the overall quality of the crust and its toppings. Many will even say that it's pure magic but whatever you call it, the results are spectacular.  
Keep in mind that pizza should ideally be baked at extremely high temperatures and coal-fired ovens deliver on the temperatures. When fired properly, these ovens achieve temperatures between 800 and 1,000 degrees Fahrenheit, sometimes higher. At these temperatures, the crust comes out perfectly baked while the toppings are cooked properly (i.e., not overcooked as to be soggy).
The quality of the pizza dough matters, too. The pizza dough should be moist and elastic as well as must have risen properly before being placed inside a coal-fired oven. The oven itself should have a temperature of upwards of 900 degrees Fahrenheit while the pizza dough should be in it between 60 and 90 seconds only.
The result: The crust has a light, crispy and chewy quality to it while its inside has a tender texture. The perfect crust is, after all, the foundation for the perfect pizza no matter your choices in toppings. The toppings can be anything from fresh tomatoes and mozzarella to pepperoni, marherita, and all-meat varieties.  
Ideal Baking Conditions
The magic of baking pizzas in coal-fired ovens lies in the type of materials used in making the ovens. Bricks and stones, the main materials of these ovens, can hold the heat inside the oven so it intensifies the heat. In turn, the higher heat speeds up the baking process resulting in the ideal pizza crust – light, chewy and crispy.
Plus, there's also the fact that the pizza dough can directly rest on the oven floor contributing to its superior quality. The crust bakes on top, thanks to the conducive heat, while the bottom becomes perfectly browned instead of being burnt in any way. When sliced, the bottom cracks well and when eaten, it has a perfect crunch without the hard and burnt taste that sometimes come with gas oven-baked pizzas.  
Think of these things when you're browsing through the Anthony's Coal Fired Pizza catering prices and know that you're making the right decision!