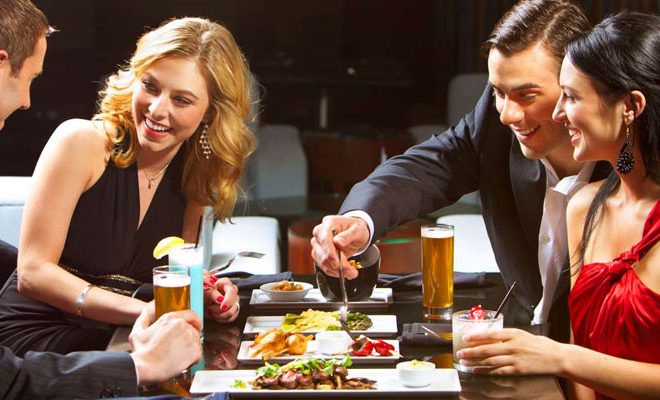 Fast Food Catering
Miss Manners On Rehearsal Dinner Etiquette
By
|
Soon-to-be-married couples use the rehearsal dinner as the opportunity to enjoy the company of their closest family and friends, as well as to celebrate the success of the wedding planning. Before the wedding, spending quality time with them may not be possible because there are just so many things to do. After the wedding ceremony, the reception festivities will also get in the way, especially with more people demanding your attention.
But many first-timers also become stymied by the etiquette surrounding the more intimate affair. Here are a few things that you should know about it so that it becomes a memorable part of your wedding – in a good way, of course.
Take It or Leave It
You and your partner may or may not choose to give a rehearsal dinner for your closest family and friends, as well as your wedding entourage. You can give it so as to spend quality time with them or you can also skip on it so as to conserve your energy for the big day. You may also look at the traditions in your family and place in deciding about it.
The beauty of a rehearsal dinner is that it can have a similar vibe or a different theme than your wedding ceremony and reception. You may want to have a completely different theme, for example, just to give yourself and guests another experience. Your wedding reception may be characterized by a formal banquet so your rehearsal dinner can be a laidback affair with catering from Chipotle.
Come One, Come All or Come Only When Invited
Traditionally, the rehearsal dinner was reserved for the members of the immediate family (i.e., parents, grandparents, and siblings of the couple), the wedding entourage including their dates, and the sponsors. You can then spend more time on your guests instead of flitting from one table to the next. You can also thank the people who actually made their contributions to the success
But many couples are also inviting most of the people on their guest list. You may also do it but keep in mind that you may be spreading yourself too thinly.
Groom's Parents Pay Or Both Families Pay
Traditionally, the groom's family pays for the rehearsal dinner. But since it's the 21st century, the couple can agree to split the costs between their families or pay for the bill themselves. There's a certain flexibility to the costs since either the bride's parents or the groom's parents can also pay for them – and we tell the groom to let them because it's one less expense on the couple's part.
Most important, be sure to limit the booze during the rehearsal dinner – or breakfast or brunch because it doesn't have to be a dinner. You don't want anybody to show up with a hangover or not show up at all during the wedding.