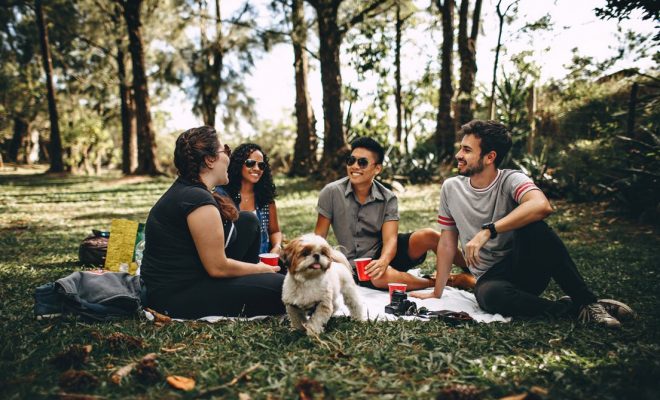 Super Markets Catering
Planning A Company Picnic Can Be A Picnic!
By
|
Planning company events can be a headache. But when it comes to planning a company picnic, there's more joy and less stress because of its casual nature. As the picnic planner, you just have to go into the nitty-gritty details of three crucial aspects – the location, menu, and entertainment.  
Choose an Accessible Location
Company picnics aren't exactly the type of events where you can bring groups of people to the wilderness and the like. Since the goal is to encourage all invited people to actually come to the event, you must choose an accessible location. You can choose a large neighborhood park or the nearest state park but the main objective remains.  
A few important tips when considering possible locations:
Check that there are plenty of parking spaces and the picnic area is a short walk from the parking area.

Choose a spot with plenty of trees and/or tents when planning a spring or summer picnic.

Note safety precautions for each specific location, such as a lifeguard or supplies of insect repellant and sunscreen.

Ask about the restrooms including their distance from the picnic area and their amenities (e.g., water, toilet paper, and ventilation).
But don't rely on the picnic area's staff and their recommendations. You should also check out the area before booking it.  
Be Wise About the Menu
You have to decide whether you want the food delivered or you want an on-site caterer. Your choice will be influenced by your company's budget, the location of the picnic, and the menu items.  You may, for example, decide on buying party platters from Publix and getting them to the picnic site because it's more affordable.  
Keep in mind that as the event planner for the picnic, you also want to enjoy the activities and the atmosphere. You may then want to skip on the grilling and barbecuing on site since there are caterers who provide grilled and barbecued items, too.
A few more tips regarding the food:
Keep the menu simple.

Bring along drinks and light snacks, such as cold fruits, vegetables, and creamy salads.  

Add fun finger foods like cotton candy and popcorn.  
Be sure to bring plenty of ice, too, since a hot day can become unbearable after the playtime activities.  
Add the Entertainment
But don't add too many that your colleagues will be too tired and cranky. You should strike the right balance between relaxation and activity since that's what a picnic is all about.  You don't even have to bring along bounce houses, face painters, and sound systems with a DJ since parlor games will often suffice.  
And be sure to enjoy your picnic, too! It may be the one day of the year when you and your colleagues are relaxed in each other's company.