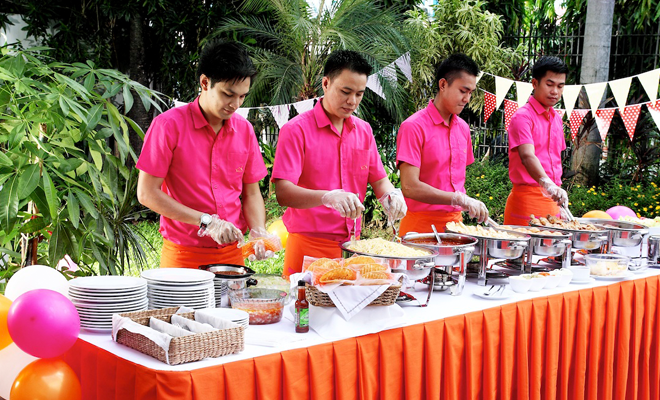 Dine In Catering
A Good Caterer Has These Five Observable Qualities
By
|
With thousands of caterers offering their services, you will be hard-pressed to choose the best one for your events, whether these are for personal purposes like weddings, birthdays and anniversaries or for professional occasions like business meetings, trade shows, and corporate events. Keep in mind that since there will likely be a different purpose, theme and venue for each event, you have to choose a different catering company as well. For example, you may choose Buca di Beppo if you want Italian and American dishes in one table but opt for Texas Roadhouse in case of a Southern-style themed event.
Regardless of your choice, however, you should look for these five observable qualities in a good, if not great, caterer.
Delicious Food and Drinks
This is the heart and soul of a catering business so much so that everything else, such as the décor, table service, and wait staff, are of secondary concern. You have to ask the catering company for a food tasting before the event itself so as to judge its ability to deliver on your desired food quality and presentation.
Guaranteed Food Safety
With several high-profile cases of food poisoning in catered events, you should discuss the matter with a prospective catering company for safety purposes. You want to avoid the negative associations between food poisoning and your special event among your guests, not to mention the possible lawsuits. Your prospective caterers should be able and willing to discuss, perhaps even show, their food safety practices.
Satisfactory Customer Service
You will be working with your chosen catering company before, during and even after your special event, which emphasizes the importance of satisfactory customer service. You should be treated with respect as the client but you must also remember that respect goes both ways.
Good Flexibility and Creativity
You may want to change certain aspects of the food and drinks, the table service, and the décor to suit the theme. You should then choose a catering company that can make reasonable adjustments in these matters especially when these concern food safety, religious dietary requirements, and personal preferences.
Able Leadership Skills
You can watch the catering company at work in its restaurants or in one of its catering jobs so as to determine the leadership skills of the supervisors. You have to look for the supervisors' ability to get the job done in an effective and efficient manner with little to no disruption in the smooth flow of food and drinks to the guests.
You should also consider the catering company's attention to detail, especially as many of catering issues stem from the smallest details overlooked by the staff. You want your special event to go as smoothly as planned, perhaps even exceed your expectations in terms of the catering company's deliverables.